WOAH! Crash Bandicoot's Nendoroid figure is now available to preorder, and he looks incredibly cute.
You better save up those wumpa fruits because Crash is currently on the Good Smile Company's store for 8,000 yen (or around $77). You can preorder him between now and Christmas Eve at 12:00pm JST.
The posable figure comes with two face plates, interchangeable tongue parts, three different eye sets, and most notably an Aku Aku Mask that he can wear or hang out with. Look at how pumped Crash is!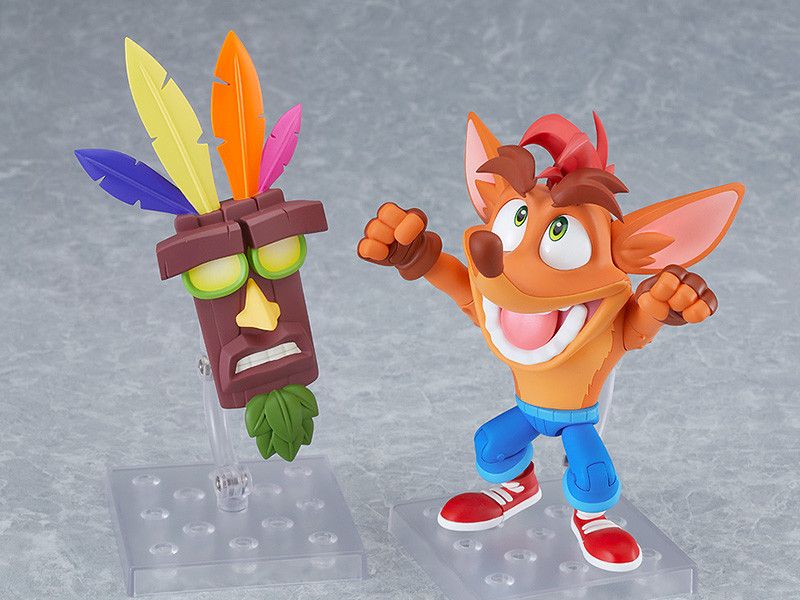 The planned release date for this figure is sometime in June 2021, so if you can't preorder him now, you'll likely see him in stores like GameStop and other popular toy retailers.
We think this figure is incredibly expressive and very detailed. It's also a nice touch that Crash comes with interchangeable tongue parts as he likes to stick it out whenever possible, and his eyebrows even articulate!
Crash Bandicoot is on a roll right now. After his successful return with the N'Sane Trilogy, he received a new game in the classic style called It's About Time. The follow up to the PS1 trilogy received rave reviews, despite some critics who said the level design needed to be stronger.
We also know that a mobile game called On The Run is sliding its way onto iOS and Android platforms in Spring 2021. The developer of the game, King, is touting that the mobile spinoff will have over 100 hours of gameplay, 50 bosses, and 12 lands to explore. That's a whole lot of bandicoot!
He's even had other licensing deals like wumpa flavored G-Fuel, which includes turmeric, green tea, kale, broccoli, and blueberry extracts. That sounds….yummy.
The Good Smile Company has done some great work in the past with their Nendoroid series and line of figures. They'll be releasing a figure based on Wraith from Apex Legends in February 2021 with a cute little blue flame in her hand. They also worked on Death Stranding's Sam Porter Bridges and somehow made Norman Reedus look adorable with his cute little shades and small BB attached to his stomach.
Source: Read Full Article